---
Cone Beam Scanner 3D Imaging
---
3D imaging provides better quality and more detailed images than traditional x-rays. This new technology is also less invasive and emits less radiation than traditional x-ray machines.
---
Digital X-Ray
---
Digital x-rays reduce the amount of radiation needed as compared to film x-rays.  The improved diagnostic capability of digital x-rays and the ability to view the x-rays on a computer screen allow the patient to better understand and follow treatment.  Digital x-rays are instant, there is no longer a need to develop the film.  Digital x-rays save time and increase patient care.  It's also a very green technology.  By eliminating film, developer and chemical waste it is better for you and the environment!
---
Soft Tissue Lasers
---
Soft tissue laser technology represents the ultimate in patient comfort and clinical excellence.  It is used for various types of periodontal (gum) surgery as well as assists in the treatment of periodontitis and peri-implantitis.  The laser is more efficient, causes less discomfort, promotes faster healing, and decreases the risk of infection, providing a favorable patient experience and treatment outcome.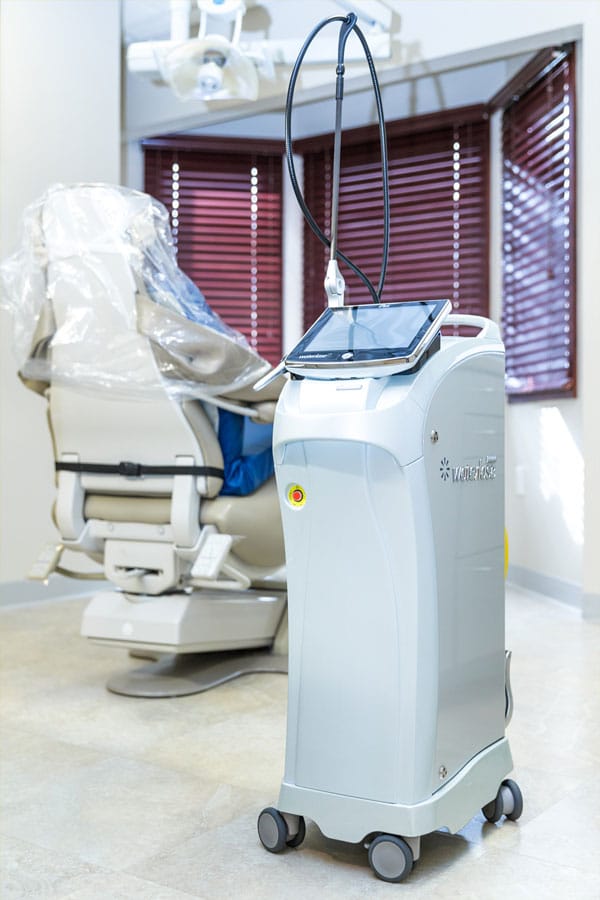 ---
TRIOS® Digital Intraoral Cameras
---
An intraoral camera combines the latest video technologies with dental care.  Both the patient and dentist can see detailed images of the teeth and other mouth problems in real time.  With an intraoral camera, patients are better able to understand what is happening in their mouth and better able to make informed decisions regarding their dental and periodontal treatment. Learn more about our 3D Imaging System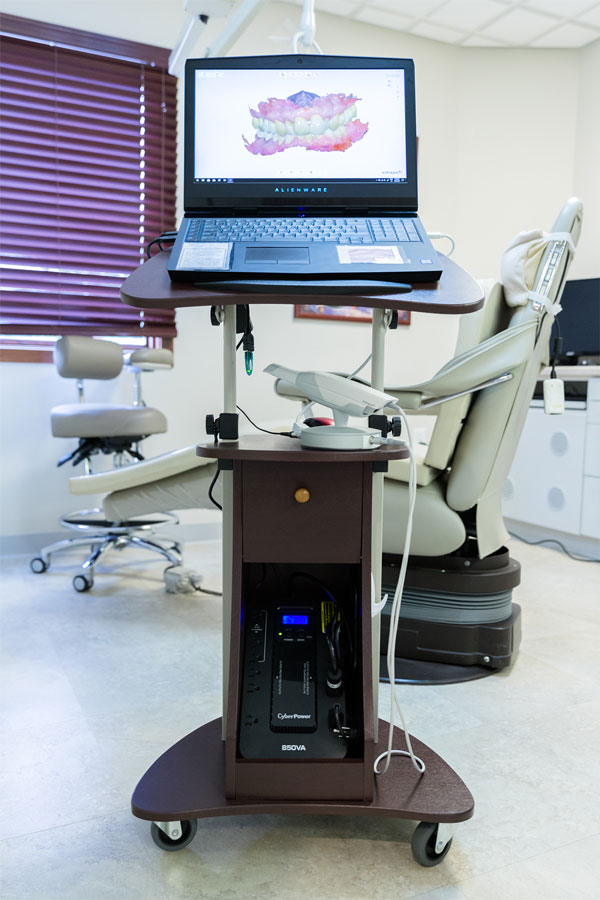 ---
Electronic Medical Records (EMR)
---
Using Electronic Medical Records our practice is able to quickly and accurately access patient information in order to provide the utmost in patient care.  This helps to ensure patient confidentiality as well as reduce the need for paper.  Using a digital format allows for quick access to your information when needed for insurance records yet provides a secure filing system.
---
Computer Guided Dental Anesthesia
---
The Wand® STA is a computer-controlled delivery system for local anesthesia that provides immediate, painless dental anesthesia for all types of dental injection.  It is revolutionizing the administration of dental anesthesia by removing the pain, anxiety, and stress associated with conventional syringes, via computer controlled delivery of anesthetic to the desired area for more enhanced patient comfort and acceptance.
---
Cavitron UltraSonic Scalers

---
Ultrasonic Scalers have dramatically improved the practice of supra- and sub-gingival periodontal debridement when used in conjunction with hand scalers and curettes. They are used in a variety of periodontal treatment and maintenance procedures.  Ultrasonic scalers are designed for quick and efficient removal of dental plaque, calculus and stain via ultrasonic vibration and tip spray, ridding the root surfaces of bacterial endotoxins while preserving the outer layer of cementum.  Because there are no sharp cutting edges, ultrasonic scalers cause less tissue trauma while providing continuous water lavage reducing the need for rinsing. It creates an overall higher level of comfort for patients, so that the entire procedure is performed more easily and quickly.
---
SciCan STATIM 5000 Sterilization System
---
The STATIM Cassette Autoclave represents state-of-the-art sterilization technology for the healthcare profession.  STATIM's unique steam injection technology allows the unit to be fast, effective, compact, and reliable, yet remain gentle on dental instruments.  This technology achieves as close to hospital-level sterilization as possible in our periodontal office environment.
---
Piezo Electric Technology
---
The advantages of Piezo-electric technology over traditional techniques are numerous, increasing visibility, precision, and safety during delicate periodontal (gum) and osseous (bone) surgical procedures.  Hard and soft tissues can be gently manipulated at different frequencies, therefore preserving the integrity of soft tissues touched by the piezo-electric tip.  In addition, its operation is quieter, and it requires less vibration and water irrigation, creating an overall improvement in patient treatment experience, faster healing, and favorable outcome.  Piezo-electric surgery can be applied to a number of clinical situations including bone surgery, sinus elevation and extractions.
---
Digital Flat Screen Monitors
---
These chair side monitors allow patients to view real-time their dental X-ray images and clinical findings when speaking to the doctor, thus enabling a better understanding of their oral health status and need for treatment.
---
Wi-Fi
---
Our office offers free Wi-Fi for our patients use while visiting our office.